We are an approved FDLE, FBI, and FINRA agency for your live scan finger printings and level II background checks.
On your fingerprinting appointment date, you will need
1 State Identification
Originator Control Identification/ORI Number  
Origination Case Number/OCA Number
Appointment confirmation Form
We provide a wide variety of fingerprinting services.
Services Offered
FBI Fingerprinting
FBI Report Apostille
Financial Industry Regulatory Authority (FINRA) Fingerprinting
Florida Department of Law Enforcement (FDLE) Fingerprinting
Fingerprint Archiving
Fingerprint Card Printing
Photo Printing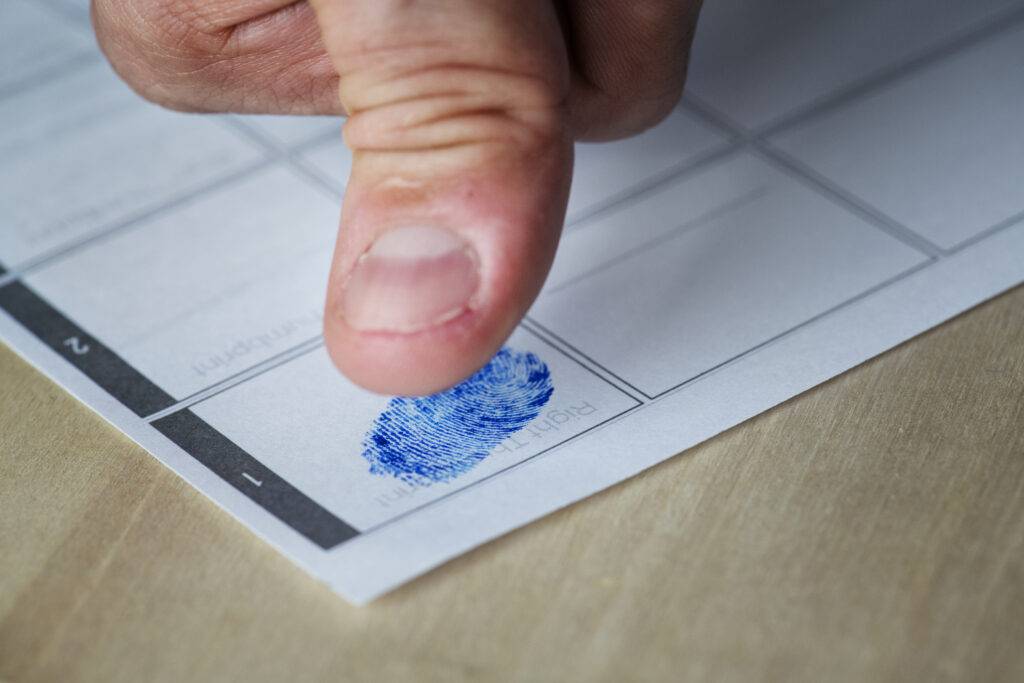 Card Fingerprinting
Federal Purposes
Most federal agencies still require traditional ink fingerprints for employment applications or other various federal requests.
Out of State Requirements
When applying for a license or background check in a state you do not reside in, ink fingerprinting will be required.
Foreign Countries
Most foreign countries or entities requesting your fingerprints will ask you to be fingerprinted on a card or form of some kind.
$45 – First Card, $20 Each Additional Card
FBI Fingerprinting
FBI Fingerprints are used by the FBI to positively identify people and cross reference their unique fingerprints to their criminal history.
Most agencies and states require specific employees or personnel to submit their fingerprints to the FBI for a FBI Background check
Results are emailed or can be mailed to you within 24 hours
Reasons for FBI Fingerprint check:

Background check for adoption
Background check for student visa's
Background check for court related matters
Background check for personal review
Background check for foreign travel
Background check for attorney requests
$95
FBI Fingerprint Apostille Service
An Apostille is the name for a specialized certificate, issued by the Secretary of State.
Individuals who travel abroad to live, work, or attend school may be asked at some point to have documents Apostilled or Authenticated.
An FBI apostille background check is a regular FBI background check with an extra certification that some countries require when you travel abroad.
Countries that are part of the Hauge Convention require travelers to have their FBI report Apostilled before they can enter the country.
As of 2019, there are 118 countries that are part of the Hague Apostille Convention.
We provide options for regular or expedited service

Regular Apostille: 3-5 weeks
Expedited Apostille: 7-10 Business days
$190
FINRA Fingerprinting
We offer ink fingerprinting on FINRA fingerprint cards.
As an approved fingerprint channeler, we also provides secure Electronic Fingerprint Submissions(EFS) to FINRA
Fingerprinting for brokerage firm employees.
Results delivered back to the broker dealer through FINRA Central Registration Depository (CRD) database.
Electronic Fingerprint submissions allow for faster processing times, higher quality fingerprints, reduced rejection rates, and lower FINRA fingerprint processing fees assessed to firms.
FINRA bills firms directly for background checks. EFS savings of 40%!
$95
FDLE Fingerprinting
We are approved to transmit fingerprints via Live Scan to the Florida Department of Law Enforcement
Employees from entities and agencies are required by law or policy to have periodic state and/or national criminal history record checks.
Examples of some entities include:

Department Of Health
Agriculture and Consumer Services
Message Therapists
Insurance Brokers
Taxi Drivers
Summer Camp Employees
Volunteers providing care to children, elderly or disabled
$85
Fingerprint Archiving
We offer a secured server capable of archiving electronic fingerprint files.
Archiving is a must-have fingerprint solution for businesses and individuals that require multiple state licenses or clearance from several states or agencies.
Once printed into the archives, an individual will no longer be inconvenienced to obtain multiple sets of ink fingerprints again and again.
Who benefits from archiving?

Doctors
Nurses
Pharmacists
Pharmaceutical Companies
Insurance Agents
Mortgage Brokers
Board Members
Restaurant Owners
Hospitality Management Companies
Money Transmitters
Financial Advisors
Restaurant Owners
FINRA Members
Prices vary. Ask your specialist
Photo Services
Provide professional quality photos for official documents such as passports, ATF forms, immigration documents, and visas.
Use our software to optimize facial pictures for great prints every time.
A webcam will be required for photo services.
A photo printer like the Canon Selphy will be required for photo services.
Prices vary. Ask your specialist